Meet Our Pastor 
                                                                  Fred W. Batten, Jr.
                                                            Installed August 3, 2019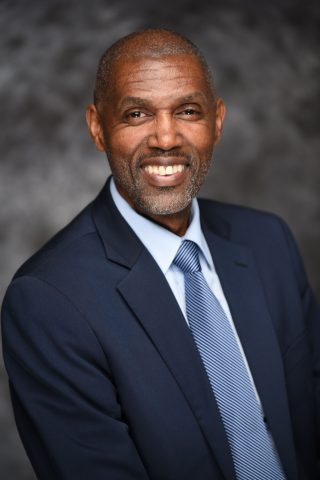 Dr. Fred W. Batten, Jr. was born to the late Fred Batten, Sr. and Vergie Batten in Murfreesboro TN.
Pastor Batten graduated from Oakland High School in 1983. During his senior year, he made a decision to answer God's call to minister the Word. Pastor Batten, although winning "All-State" honors in basketball and receiving several scholarship offers to play collegiate basketball, refused to play the game that he loved so dear.
He served the Oaklands Park Seventh-day Adventist Church as local elder for 12 years. While serving his home church, Pastor Batten started a radio ministry entitled "FYI-For Your Inspiration". This program aired for 10 years under his leadership.   He completed a Bachelors of Business Administration degree, with a minor in Finance and Economics from Middle Tennessee State University in Murfreesboro, Tennessee in 1994. 
 
Pastor Batten graduated from Vanderbilt University's Divinity School in 1998 with a Master of Theological Studies degree. In the summer of 1999 the Lord blessed him to work in evangelism on the island nation of Bermuda. In recent years, he has conducted several Bible Crusades and Revelation Seminars.
 
In 2000, Fred Batten, Jr. began his pastoral ministry in the South Central Conference of Seventh-day Adventist in the Mississippi Delta. In January 2002 he was asked to the Canton/Yazoo City district.  While living in Yazoo City, Pastor Batten was invited to co-host a local radio program, "Community Awareness" on 92.1 FM. He served the New Heights and the South Jackson Seventh-day Adventist Churches in the city of Jackson, MS from 2003 to August 2009. While serving the South Jackson congregation, he helped his district to be actively involved in Community Services and Disaster Response (help manage FEMA warehouse after Katrina), promote Health and active Prayer Ministries. The church also partnered with Baker Elementary School to provide tutorial assistance.

Most recently Pastor Batten served the Word of Life Seventh-day Adventist Church in Memphis (August 2009 – July 2019) where the church increased its community presence and involvement. The Word of Life congregation increased its community presence by adopting Westside Elementary school, operating a summer camp, back to school block parties and literacy and homework diner for grades 2-8. The church partnered with the United Way to provide free income assistance through the Volunteer Income Tax Assistance program (VITA) and with Remote Area Medical to provide free dental, vision and medical services.

The Doctor of Ministry degree in Urban Ministry and Church Growth was conferred upon Pastor Batten from Andrews University in Berrien Springs, Michigan August 2015.
Additionally, Pastor Batten received a Leadership Certification from the John Maxwell Team. He is the author of a devotional book, inspire by his grandfather entitled, Wisdom: from Generation to Generation.
He is happily married to his lovely wife, the former Denise Rhodes Terrell. They have been jubilantly married for over 34 years. The Lord blessed this union with two lovely daughters: Amber, Oakwood University graduate in Nursing and Brandi, a Southern Adventist University graduate in Mental Clinic Counseling.

Doctor Batten loves reading. He also has a passion for playing basketball, tennis and helping others come to know Jesus.