>
Home
>
Ministries
Adventist Community Services
Adventist Community Service is the official community outreach ministry of the Seventh-day Adventist Church. ACS serves the whole person, a concept known as holistic ministry whose mission is "Serving Communities in Christ's Name." 
 
ACS Vision 
Expanding the scope of community services

Building collaborative partnerships

Integrating education in leadership development
ACS Core Values  
SHARING – We proclaim the good news of salvation by actively demonstrating the love of God.

CONNECTING – We build relationships by connecting people with their community family and to God.

MINISTERING – We minister to the communities we serve by focusing on their physical, mental, social, and spiritual well-being.

DISCIPLESHIP – We empower and engage members to serve their communities by teaching, mentoring, and equipping in holistic ministry.
Mrs. Cynthia Holmes is the Leader of our Community Service Department. Under her leadership we are very fortunate to continue to assist the members of the Fort Lauderdale community through monthly grocery distribution, our unsheltered ministry, free haircuts, and unsheltered placement. 

Food Distribution
"Lord Jesus Help Us to Help Somebody Else" - Mt. Olivet's free grocery distribution takes place every 1st and 3rd Wednesday of each month from 4:00 PM to 5:30 PM. In November our hours for food distribution starts at a different time, 3:30 PM to 5:00 PM, please make note of the change in time. Please check in at 649 NW 15th Way Fort Lauderdale, FL 33311 too reach these free services. Food is distributed on a first come first serve bases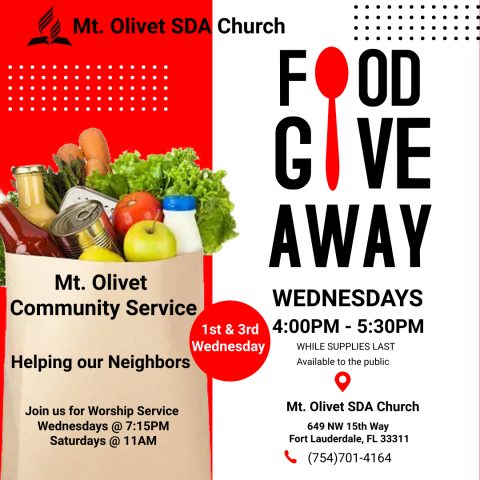 Unsheltered Ministry
Our Unsheltered Ministry provides free hot meals to members of our community that are unsheltered. We are able to provide this service every Wednesday at 4:00 PM at 649 NW 15th Way Fort Lauderdale, FL 33311.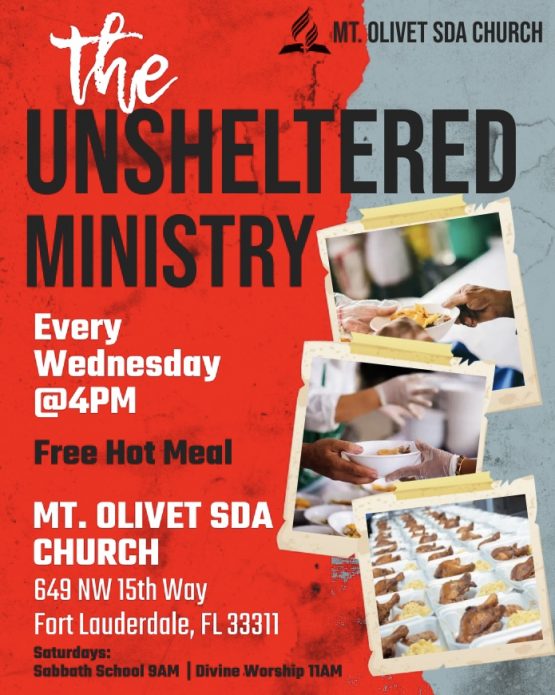 Shelter Placement 
As a part of our Unsheltered Ministry, we also help members of our community to find shelter placement. This service is provided every Wednesday 3:00 PM at 649 NW 15 Way Fort Lauderdale, FL 33311. If you know of anyone in our community that needs shelter placement please contact us so that we may assist.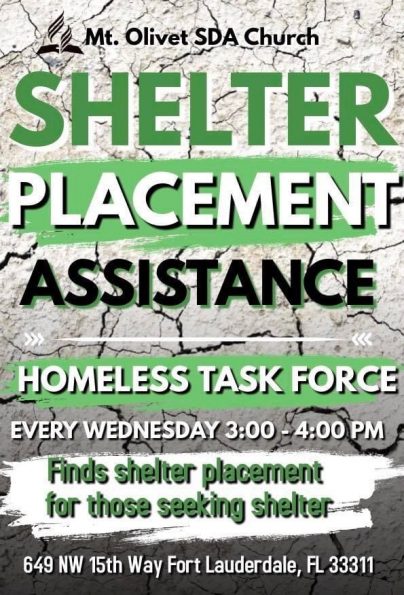 Free Haircuts
Through our partnership with JT's Cut's Academy, we are able to host as members of our community receive free haircuts the 1st Wednesday of every month from 5:00 PM to 6:30 PM at 649 NW 15th Way Fort Lauderdale, FL 33311. We are so thankful to JT's Cut's Academy for partnering with us and giving of their time and talents to be of service to our community.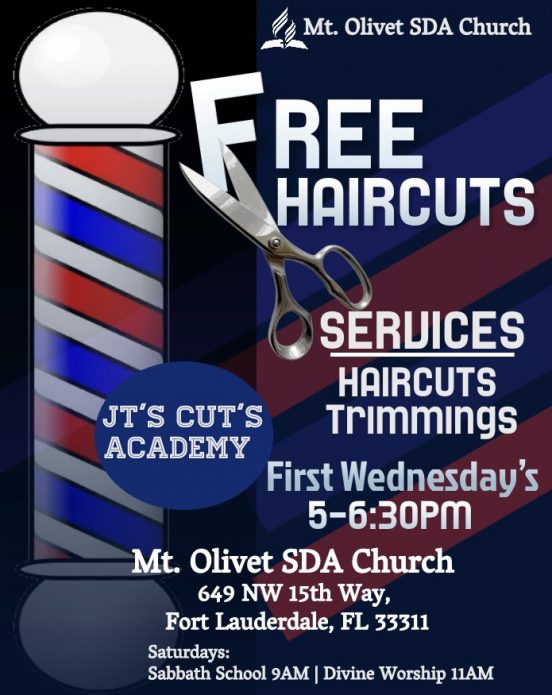 For more information on any of our community service programs, please contact us at (954)701-4164 or email us at mtolivetsdafl@gmail.com.  You can also join us for service on Wednesday's at 7:15 PM for Prayer Meeting and on Saturday's at 11:00 AM at 649 NW 15th Way Fort Lauderdale, FL 33311. 
 
Community Service Photo Gallery