>
Home
>
Ministries
Evangelism

"

Therefore,

 go and make disciples of all nations, baptizing them in the name of the Father and of the Son and of the Holy Spirit, and teaching them to obey everything I have commanded you. And

surely,

 I am with you always, to the very end of the age."
MATTHEW 28:19-20
Mt. Olivet is evangelism in action by preaching, teaching and spreading the good news of God's salvation. We have been praying to God for an outpouring of soul saving as we prepare to open up the doors to teach those in our community and around the world of God's everlasting gospel and his never ending love for us.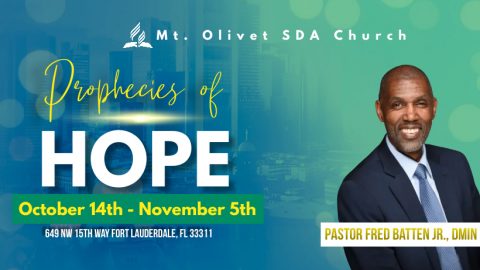 Are you looking for a future without fear? The Bible has proven itself accurate throughout history and it tells us what will happen soon. The books of Daniel and Revelation will dispel your fears and give you a foundation for how you can prepare for the world events.  
Join us for our Prophecies of Hope Seminar that will be held October 14th - November 5th that will guide you from fear to faith.  We will cover the books of Daniel and Revelation. Invite your family, friends and coworkers to take part in studying how to combat fear with faith.
To register for the online access for this evangelistic effort click on the link below to receive all notifications and to be a part of the nightly giveaways.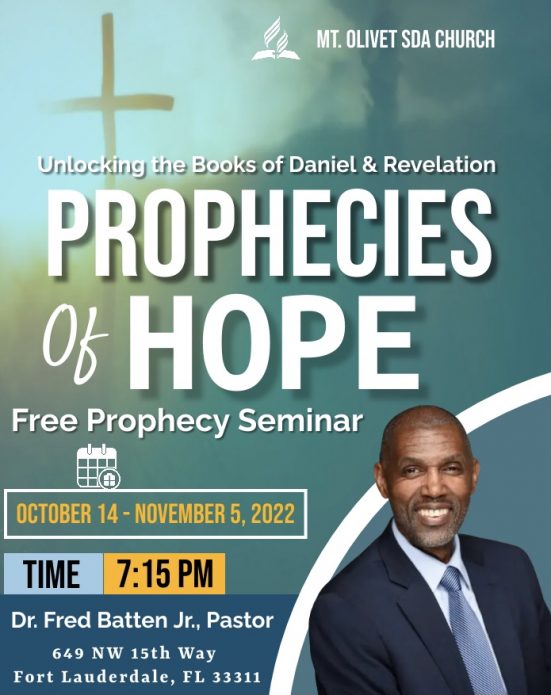 Join the Evangelism Team for daily prayer at 5AM, 12 noon and 7PM each day leading up to the Evangelistic Seminar "Prophecies of Hope".  We have daily intentionally prayer for our community and the fears that many face daily and for God to not only bless but to move through each person that we come in contact with through the Prophecies of Hope Evangelistic Seminar.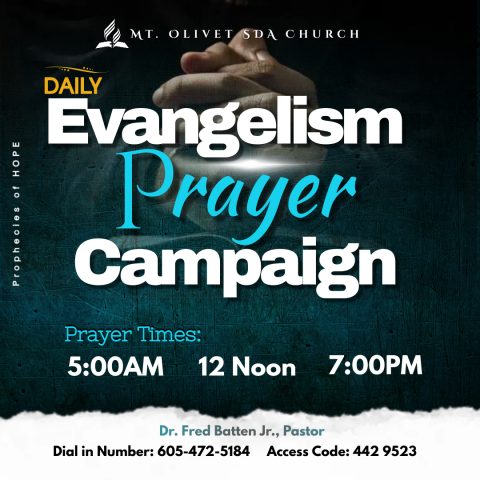 Join us each night beginning Friday, October 14th at 7:15 PM EST / 6:15 PM CST as we study the books of Daniel and Revelation.   We are located at 649 NW 15th Way Fort Lauderdale, Florida 33311.